Technology Assistance Program (TAP)
The Virginia Department for the Deaf and Hard of Hearing (VDDHH) offers telecommunication equipment and assistive technology to qualified applicants as a solution to their communication needs through the Technology Assistance Program (TAP).


Assistive devices available through TAP includes:
Amplified telephones
Captioned Telephones
Personal FM Systems
Signalers
Other devices available by special request
Note: All devices received through TAP carry a one-year manufacturer's warranty. Your local Deaf and Hard of Hearing Specialist provides consumer training on the use of the TAP equipment.
Who is eligible for TAP?
To qualify for TAP, you must be Deaf, hard of hearing, speech disabled, or have a combination of hearing and vision loss. You must also be a Virginia resident and meet income eligibility requirements that are based on household income and family size. While there are no age restrictions, all applications from minors must be co-signed by a parent or legal guardian.
Virginia Veterans with a hearing or speech loss upon providing documentation of their Honorable Discharge (form DD-214 or NGD-22) automatically qualify for TAP equipment at no cost.
How does the program work?
Equipment is provided to qualified individuals on a Loan-to-Own (L2O) basis. This gives qualified recipients up to 30 days to decide whether to keep, exchange, or return the equipment. During the 30-day period, if the recipient feels the equipment meets their communication needs, he or she retains ownership of the equipment. Each recipient can re-apply for additional equipment every four (4) years.
How do I apply?
Complete and submit a TAP application with all required documentation to your local Deaf and Hard of Hearing Specialist. Along with a completed TAP application, your local Deaf and Hard of Hearing Specialist is required to verify the following forms of documentation: a valid photo I.D., proof of Virginia state residency, and documentation of household income.
Household income is defined as the total income of the total number of individuals living together under the same address. Household income can be verified by using the following forms of documentation:
Most recent bank statement(s)
Current income award statement(s) such as, Social Security Income, Retirement Statement(s), etc.
W2 form(s)
o If you are an honorable discharged United States Veteran, please submit a copy of your discharge paperwork (DD-214 or NGD-22)
To find out who your local Deaf and Hard of Hearing Specialist is, please visit our Directory of Deaf and Hard of Hearing Specialists, at www.vddhh.virginia.gov or contact the VDDHH Central Office at 804-662-9502 or 1-800-552-7917. (Note: relay users; please dial 7-1-1 before dialing our number)
To find out if you qualify, contact the Deaf and Hard of Hearing (DHH) Specialist's office nearest you. Click here for a list of office locations or call 1-800-552-7917.
TAP Brochure
Other services available through TAP
DHH Specialists can also provide information and referral for assistive technology devices, demonstrate proper equipment use, highlight key features of various devices, and identify vendor options and discounts for applicants. For more information, contact the VDDHH outreach office in your area.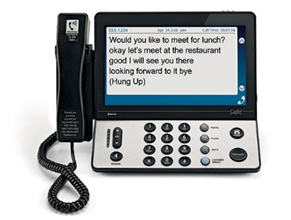 CapTel 2400i
Large square black corded phone. The display screen is at the top showing a white background with large black writing, which displays the incoming caller's message.



ComfortDuett
Small grey rectangular personal amplification device sitting in a small grey square charging port. Device has two large round buttons in the middle of the device. The large top button contains a plus sign; large bottom button contains a minus sign; a small circular black button in the top left corner and a small green round button in the top right corner. To the left of the device is a pair of headphones, to the right of the device is pair of black earbuds.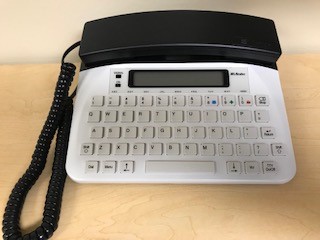 Uniphone 1140
White square base corded telephone with keyboard; keys have white background with black letters and numerals; small grey screen above keyboard for displaying the text of incoming caller's message; handset is black with back cord.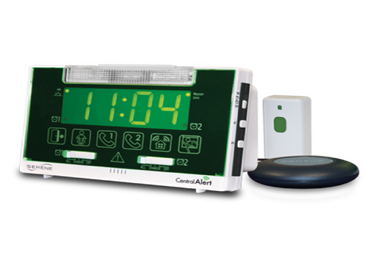 Central Alert 360
Green and white rectangle alarm clock with strobe light bar across the top of alarm. Numbers on the clock are neon green showing 11:04am. Clock and alarm control buttons are on the right side of clock. To the right of the device is a white and green doorbell; in front of the doorbell is a black and blue circular bed shaker.